Pentatonix Performs A Cappella Rendition of 'Hallelujah'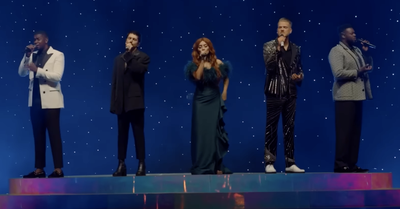 By from GodTube.com, Crosswalk.com
The powerful song was originally released in 1984, but it wasn't until Jeff Buckley released the song on his 1994 album, 'Grace' that the song really started to gain momentum.
Since that time, 'Hallelujah' has become a worldwide phenomenon and truly cemented itself in music history. Over the years, many artists have covered the tune and it's a popular song selection for auditions and showcases. The unique tune sounds like a perfect blend of a rock ballad and a gospel song.
"Well it goes like this
The fourth, the fifth, the minor fall and the major lift
The baffled king composing Hallelujah
Hallelujah, Hallelujah, Hallelujah, Hallelujah"
This talented group formed in 2011, but they shot to fame after winning the third season of the television show 'The Sing Off.' Since that moment, Pentatonix has become a household name with viral performances such as 'Mary Did You Know' and 'The Sound Of Silence.' They are known for their stunning harmonies, impressive high notes, and even lower bass notes. More than that, they put their hearts into every performance, and you can truly feel the emotion of each song they sing.
Today, they're performing a live rendition of the iconic tune, 'Hallelujah.' Just listen as they belt out these words in perfect harmony.
"I'll stand right here before the Lord of song
With nothing, nothing on my tongue but Hallelujah"
It's always incredible to hear the unique arrangements from Pentatonix. With every sound coming from their mouths, it makes it even more impressive. Time and time again, they manage to top their previous performances and it's such an experience to enjoy. Which one of their cover songs is your favorite?
Related Music Videos from Pentatonix:
Pentatonix Sings 'Amazing Grace (My Chains Are Gone)' A Cappella
Pentatonix Singing 'Hallelujah' Will Stun You
'Away In A Manger' - Amazing A Cappella Christmas Hymn from Pentatonix
This content originally appeared at https://www.godtube.com/watch/?v=GD6LWGNX; used with permission.
Photo credit: ©GodTube