Reporting from Jerusalem on the Conflict in Israel: How Israelis Face Their Fears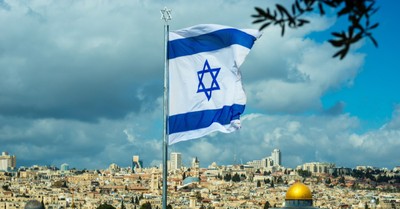 By Jim Denison, Crosswalk.com

I am writing today's Daily Article from Jerusalem in the aftermath of a five-day conflict between Israel and terrorists in Gaza.
I have led more than thirty study tours to Israel over the years, but this is my first time being here during one of its conflicts with its territorial enemies. On our first evening in Tel Aviv, we were shown the location of the bomb shelter in our hotel in case warning sirens went off during the night. Our groups never travel near Gaza, so we are never in danger from local fighting that erupts periodically in that area. However, we were not able to travel to Bethlehem as usual because that would have brought us too close to the conflict.
I have written often on Islam and Israel over the years. (My book, Radical Islam, explains the history of this conflict in detail, as do a number of articles on our website.) Today I'll offer a concise survey of the issues underlying the present strife, then offer a reflection on courageous faith.
How the latest conflict began
Three months ago, Khader Adnan—a leader of the terrorist group Palestinian Islamic Jihad (PIJ) who was imprisoned in Israel—began a hunger strike to protest his detention. He died on May 2 at the age of forty-five.
That afternoon, PIJ launched more than one hundred projectiles toward southern Israel. Last Tuesday morning, Israeli missiles killed three PIJ commanders in response. According to Palestinian officials, the assault also killed ten civilians, including some of the targets' wives and children.
PIJ retaliated by firing rockets and shells toward Israel, some reaching as far as the Tel Aviv and Jerusalem areas. Israel reported over twelve hundred launches during the fighting and said about a quarter of the rockets misfired and landed in Gaza, while most of the rest landed in open areas or were intercepted by their air defense systems. However, an eighty-year-old woman and a Palestinian laborer working inside Israel were killed by rocket fire. Israel responded by conducting more airstrikes, killing other senior PIJ leaders and destroying their command centers and rocket-launching sites.
Last Saturday, Israel and PIJ agreed on an Egyptian-brokered cease-fire to end the fighting, but the underlying issues remain.
Both sides claim the same land
PIJ is an Iranian-backed militant group founded in 1981 to focus on armed conflict with Israel. They reject Israel's right to exist for reasons that go back forty centuries in time.
According to the Bible, Abraham offered his son Isaac at the top of Mt. Moriah (Genesis 22), the eventual location of the temple. God blessed Isaac's descendants (Genesis 17:19-21), the Jewish people, and gave them their promised land for their nation (Genesis 12:1-3). From Abraham's time to ours, this land has been their birthright. The founding of the modern state of Israel in 1948 merely codified legally what had always been true biblically.
The Muslim holy book tells a different story. In the Qur'an (37:100–108), we read that Abraham offered a "son" whom Muslims believe was Ishmael. In their view, God promised the land we call Israel to Ishmael's descendants, among whom are the Palestinian people. They believe that the creation of Israel in 1948 was therefore a theft of land from its rightful owners.
Furthermore, some see this "theft" as an attack on Islam. Since the Qur'an requires Muslims to defend Islam (2:190–192; 22:39), they believe they are required to eradicate Israel from the land. This is true of PIJ, Hamas, and Hezbollah, all of which are pledged to the destruction of Israel. In addition, some believe that since Israel is a democracy where its citizens elect its leaders and support its military, there are no "innocent victims" in Israel.
As a result, in the view of the PIJ and other radical groups, firing missiles into civilian populations in Israel is not a terrorist attack on innocent victims. Rather, they see such aggression as a defense of Islam required by the Qur'an and a means of restoring the land to its rightful Palestinian owners. Israel, of course, cannot tolerate such attacks on its citizens. And so a conflict in which two sides claim the same land continues.
How Israelis face their fears
For many years, my Israeli friends have taught me the importance of resilience as they refuse to allow threats of violence to change their lives. They take shelter when necessary, but they choose not to live in fear because this gives the "terrorists" ("those who cause terror") what they want.
When violence does strike, they return to normal as quickly as possible. While Americans might turn the site of a terrorist attack into a memorial to those who died, Israelis typically do not. They do not want to memorialize the crime, believing that they pay tribute to their dead by living well.
I witnessed such courage in Israel last week. While their military responded to PIJ's aggression, the people went about their days. I admire their fortitude and passion for life.
Christians should embrace such an approach to suffering on an even deeper level. We know that "to live is Christ, and to die is gain" (Philippians 1:21). When death comes as it must for us all (if the Lord tarries) when we take our last breath on earth, we take our first breath in heaven. We step from death into life, from this broken planet into God's perfect paradise.
In the meantime, we can trust that God redeems all he allows and turn our obstacles into opportunities for faith. While we must not be naïve or presumptuous, we can live with an "abundance mentality" that expects God's best for his children. We can say with Paul, "I can do all things through him who strengthens me" (Philippians 4:13) because we are "more than conquerors through him who loved us" (Romans 8:37).
"The Lord will take care of your death"
Whether you live in Israel or anywhere else, today could be your last day on Earth. You are one day closer to eternity than ever before. St. Augustine noted, "They who are destined to die need not be careful to inquire what death they are to die, but into what place death will usher them."
May I ask: Are you right with Jesus? Are you walking with him? Are you ready to meet him?
The great colonial evangelist George Whitefield advised: "Take care of your life and the Lord will take care of your death."
Let's live in light of this fact today to the glory of God.
NOTE: We're re-releasing The Coming Tsunami because its message is still just as urgent. As one reviewer wrote, "Dr. Jim Denison has provided a sobering, important analysis of our times. ... Every believer needs to carefully, prayerfully read this timely book." Please request your copy of The Coming Tsunami today.
Publication date: May 15, 2023
Photo courtesy: ©Getty Images/John Theodor
The views expressed in this commentary do not necessarily reflect those of Christian Headlines.
For more from the Denison Forum, please visit www.denisonforum.org.

The Daily Article Podcast is Here!