40 Family Activities for Your Autumn Bucket List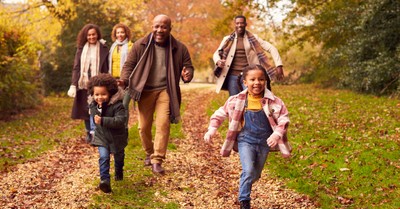 By Alicia Searl, Crosswalk.com
Oh, the refreshing season of fall. Pumpkins grace the porches with warm and inviting glows, the smells and tastes of the season are divine, and parents are collectively (and silently) cheering that school is back in session. Fall is the refresh button we never knew we needed until it arrived. We can all breathe a sigh of relief because the sweet wonder of fall is finally here!
So, grab your mud boots and pumpkin spice latte, and let's kick off the season with some fun things you and your family can do to ring in the season. Are you ready to make some memories? Below is a list of activities that are sure to put some smiles on your sweet little darling's faces (and yours), and the best part is most of them are either free or at least go easy on the pocketbook. Huge plus!
1. Jump in a Pile of Leaves
Might as well make all the leaves in your yard a place to have fun after all the hard work is done!
2. Bob for Apples
This is always a fun and easy activity with the kids.
3. Make a Fun Fall Craft with Leaves
Make a fun craft with all the leaves scattered all over the yard. You can make leaf prints, paint with leaves, or turn them into a pretty decorative tabletop masterpiece.
4. Spooky Movie Night
Pop some popcorn and snuggle up close for a family movie night. Hotel Transylvania, Hocus Pocus, The Addams Family, and Charlie Brown and the Great Pumpkin are a few family-friendly favorites.
5. Paint Your Faces
Let your creative side shine through as you take turns painting each other's faces.
6. Camp Out in the Backyard
Pop up a tent, roll out the sleeping bags, and let the magic begin! This is always fun on those crisp autumn nights.
7. Go Apple or Pumpkin Pickin'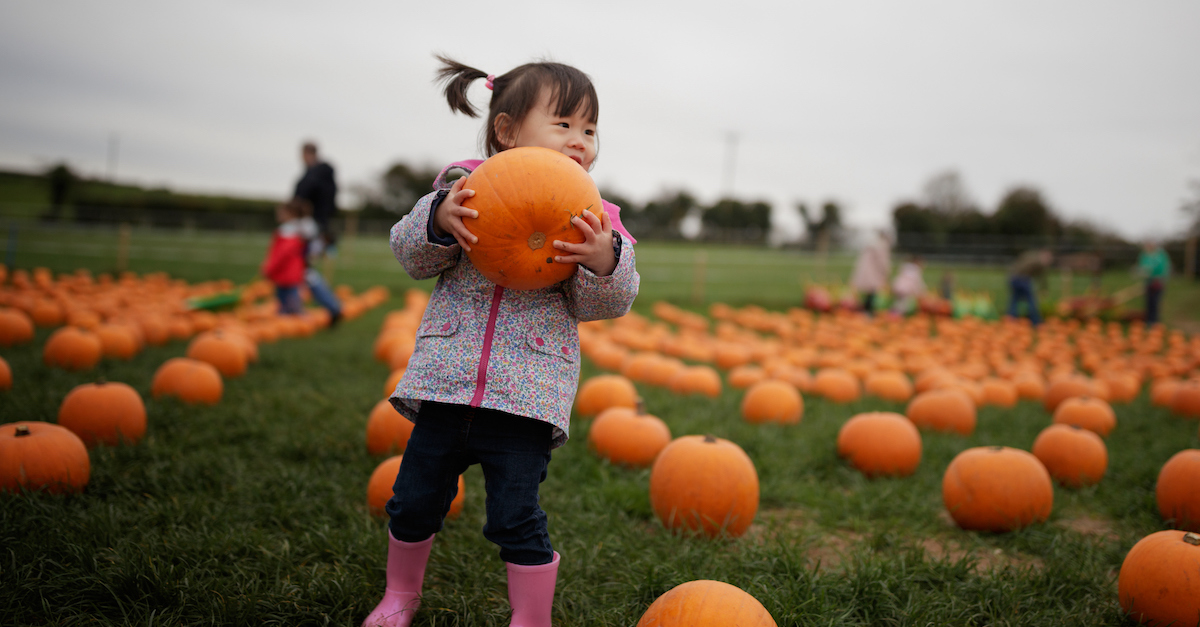 Photo credit: ©GettyImages/M-image

Check out a local "pick your own fruit" farm to pick your own apples or pumpkins. And yes, pumpkins are a fruit! I learned that on our last excursion to the pumpkin patch.
8. Throw a Fall-Themed Party
Get creative and brainstorm as a family a fun fall-themed party. From a harvest potluck to a costume party, it can be as simple or extravagant as you dream it up. Then let the good times roll!
9. Game Night
Are there any competitive family members? Let their skills show on a family game night.
10. Check Out a Harvest Festival
Many churches or local venues host fun harvest or fall festivals. Check out what is popping up in your area and visit one of them with the fam.
11. Make Popcorn Balls
These are always fun to make but even better to eat! If you want to make it even tastier -pop the popcorn on the stove. Trust me; once you pop popcorn this way, you'll never go back to microwave popcorn.
12. Deliver Treats to Neighbors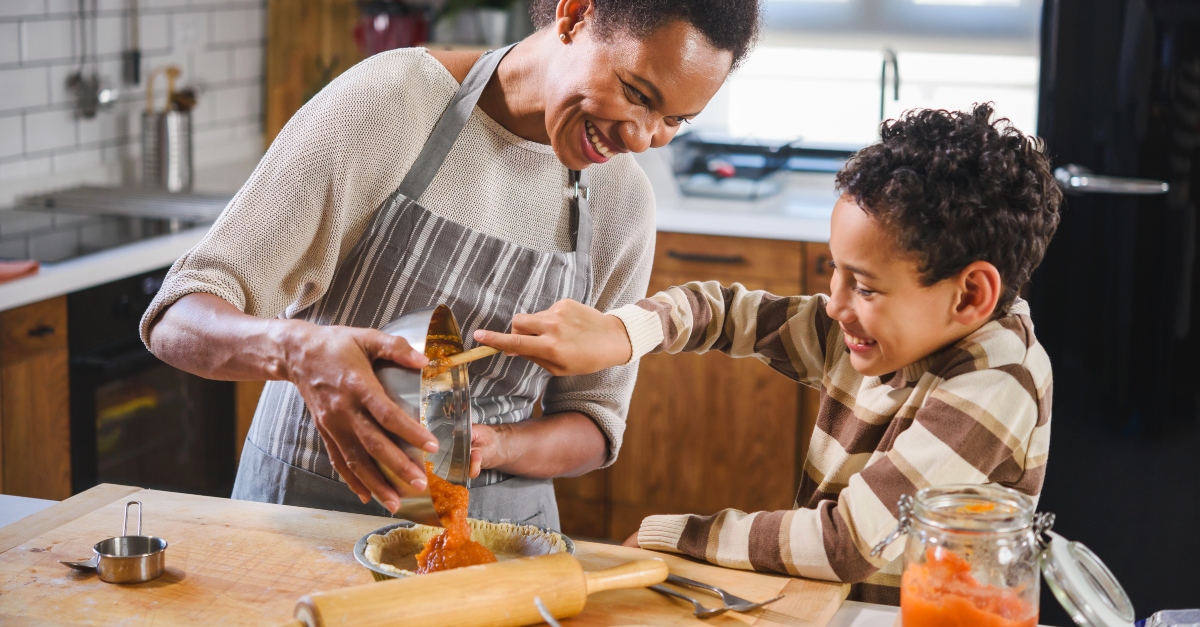 Photo credit: ©Getty Images/Lordn
Make some yummy goodies, such as cookies or cupcakes, and then treat your neighbors.
13. Create Apple Prints
Cut apples in half and make some fun apple prints and art projects.
14. Roast Pumpkin Seeds
Simple and easy, yet a delicious snack. Wash, dry, season, and roast at 350 for 10-12 minutes. Viola!
15. Make a Fun Fall Breakfast
Whip up a fun fall breakfast. From pumpkin pancakes to blueberry streusel, get your day started with a big breakfast that will make even your late risers want to rise and sun from the smells coming from the kitchen.
16. Take a Train Ride
Several small cities have fun seasonal train rides. See if there is one close to your area, and go check it out. It'll be a one-of-a-kind experience.
17. Hold a Pumpkin Decorating Contest
Each family member gets a pumpkin to decorate, so have your art and creative skills ready! Then have an outside family member or friend declare a winner.
18. Build a Fort
Turn the living room or game room into a blanket and pillow fort. Take in some books to read or play games, and sleep inside, if you dare!
19. Visit a Farm
May farms host fun fall activities. Go see how they harvest crops this time of year and get the inside scoop.
20. Take a Drive to See the Fall Foliage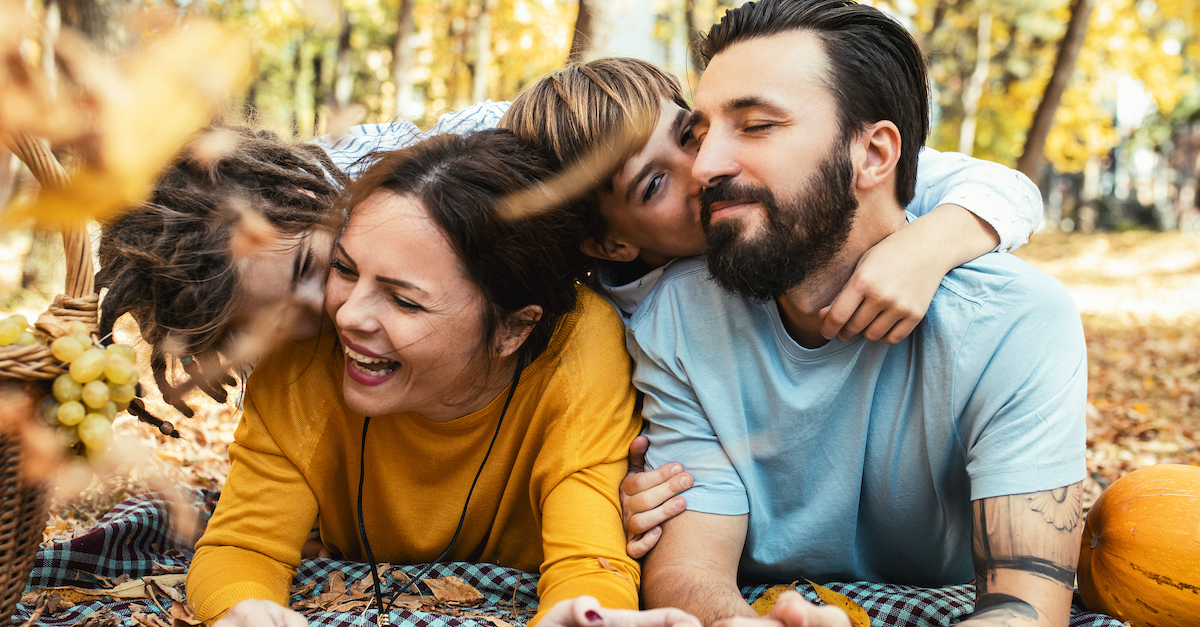 Photo credit: ©GettyImages/vlada_maestro

Load all the kids in the car and take a drive. Check out a local park with pretty leaves and walk around.
21. Fly a Kite
Is there anything better to do on a windy day?
22. Paint Pinecones
Not sure what to do with all the pinecones in the yard? Have the little ones collect them and then paint them up, sprinkle a little glitter and add googly eyes and feathers to look like a turkey. Makes for cute tabletop décor.
23. Make Candy or Caramel Apples
These yummy treats are always a big hit. Cut them up and store them for "treats" later too.
24. Jump in Rainy Day Puddles
If the backyard is a slushy mess from all the rain, throw on some rainboots and make the best of it. Just be sure to have the water hose ready to rinse off!
25. Cozy Up Next to a Firepit and Tell Stories
Chilly night? Light a bonfire or firepit, tell stories, and look up at the stars.
26. Make a Family Thankful Journal
As the year draws to a close, discuss things you are all thankful for as a family. Place it somewhere where you can add to it as needed. If you make it an annual thing, it will be fun to reflect on each year too.
27. Go on a Hayride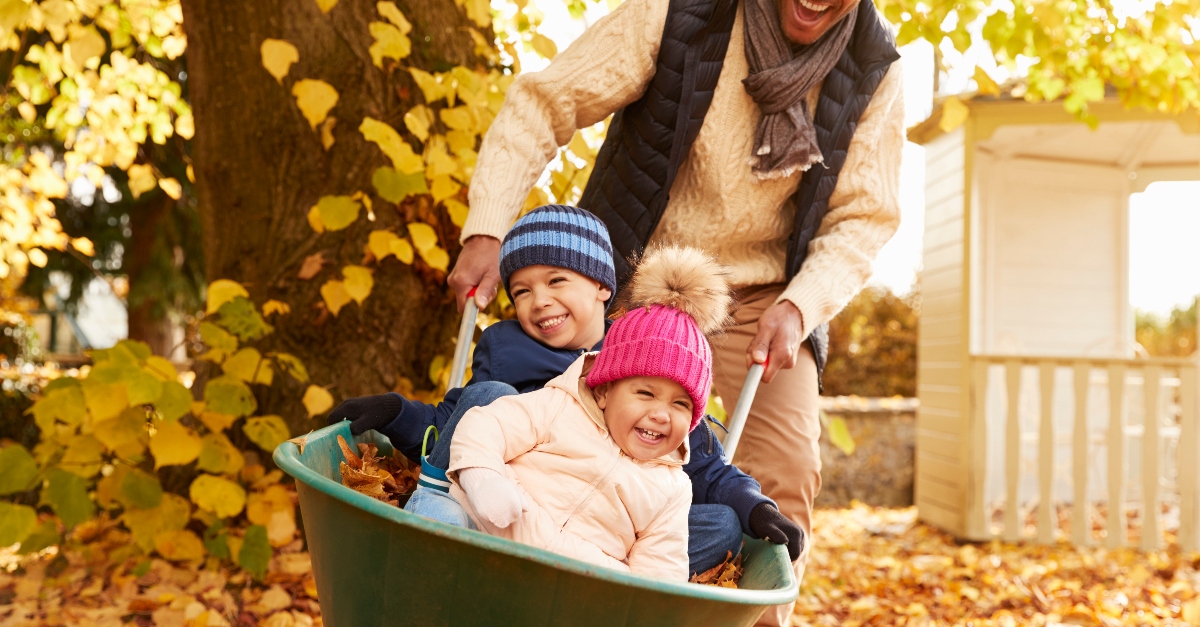 Photo credit: © Getty Images/monkeybusinessimages
Jump on a hay pail and hitch a ride. Such a simple way to take in the fresh air.
28. Make Cards and Deliver Them to an Assistant Living Home or Children's Hospital
This small act of generosity will help your child see the needs of others this time of year. It will also bless their hearts by giving and showing compassion.
30. Saddle Up and Go Horseback Riding
With the weather getting cooler, it is a perfect time to ride a horse and take in the views of the fall.
31. Hike a New Trail
Get outside and explore a new trail. Take an adventure to a new park and check out what it has to offer.
32. Go to a Game
'Tis the season for football. Have a favorite team? Haul the kids into the car and let them be the cheerleaders. The game life is always a fun experience!
33. Light the Fireplace and Read Stories
Too cold outside? Cozy up next to a fire with a bunch of books and hot cocoa and read together.
34. Make Smores
Grab the graham crackers and marshmallows, oh, and don't forget the chocolate because it's bound to be smores night at some point. By the way, baby wipes help with sticky fingers, so you may want to grab a box of those too.
35. Blindfold Fun Fall Food Tasting
Place some fun "fall foods" in various bowls (ex: cranberries, orange slices, pecans, or pumpkin seeds), then blindfold your kiddos and let them try a nibble from each bowl. Can they tell what they are eating? The one that guesses all correct is the winner!
36. Snap a Fall Family Photoshoot
This time of year is perfect for those fall photos. Grab some pumpkins and head to a park or trail to shoot some unique and memorable pics.
37. Go to a Petting Zoo
Have animal lovers in the family? Visit a petting zoo and go "hog wild!"
38. Have a Chili Cook-Off
Invite some friends or family over and host a chili cook-off. Taste the various kinds and see which one is your favorite. Maybe learn a new way to make chili in the process!
39. Create a Hot Cocoa Bar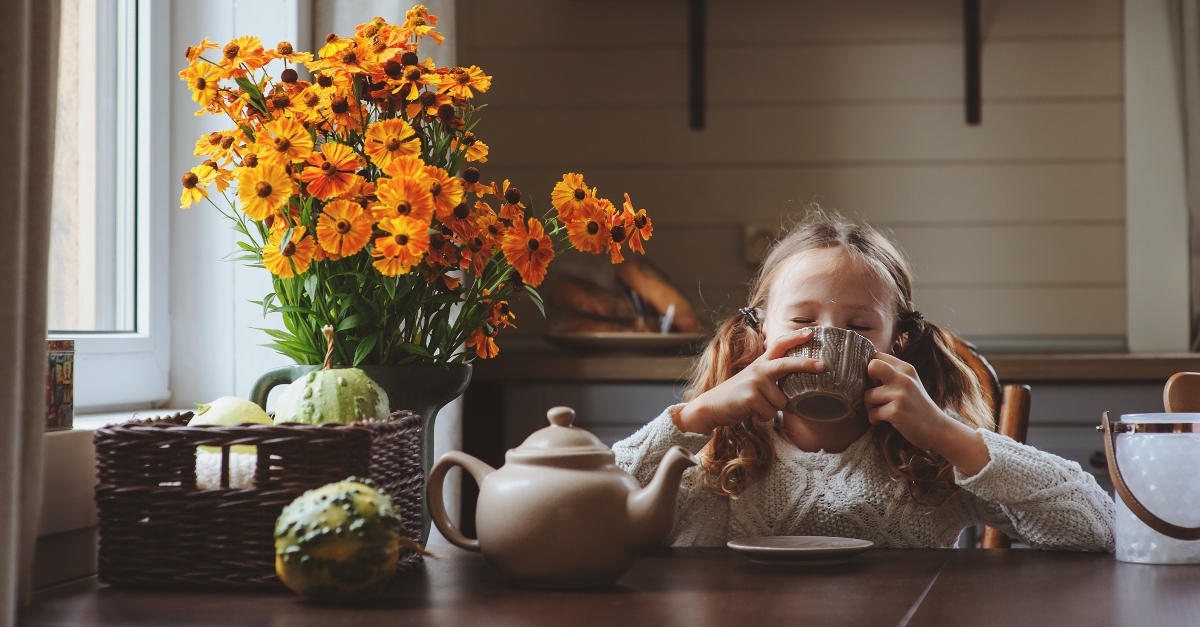 Photo credit: © Getty Images/Mkovalevskaya
This one is always fun. Get a bunch of different kinds of cocoa, from regular chocolate to hazelnut or even pumpkin spice cocoa (yes, there is such a thing now). Then grab some fun toppings, such as mini or giant marshmallows, whipped cream, candy bits, peppermint or cinnamon sticks, toffee bark, or chocolate chips) Whip up your own concoction and enjoy!
40. Make a Full Family Bucket List
Now is the time to pick and choose which activities you want to try with your family. Together make a bucket list, but no pressure. This is by no means meant to send you into a frantic fall frenzy but rather to give you a few ways to share some amazing memories with your tribe of precious people. So, tap into their interests and see what sounds fun to enjoy this blissful season together!
Happy Fall!
Photo credit: ©GettyImages/monkeybusinessimages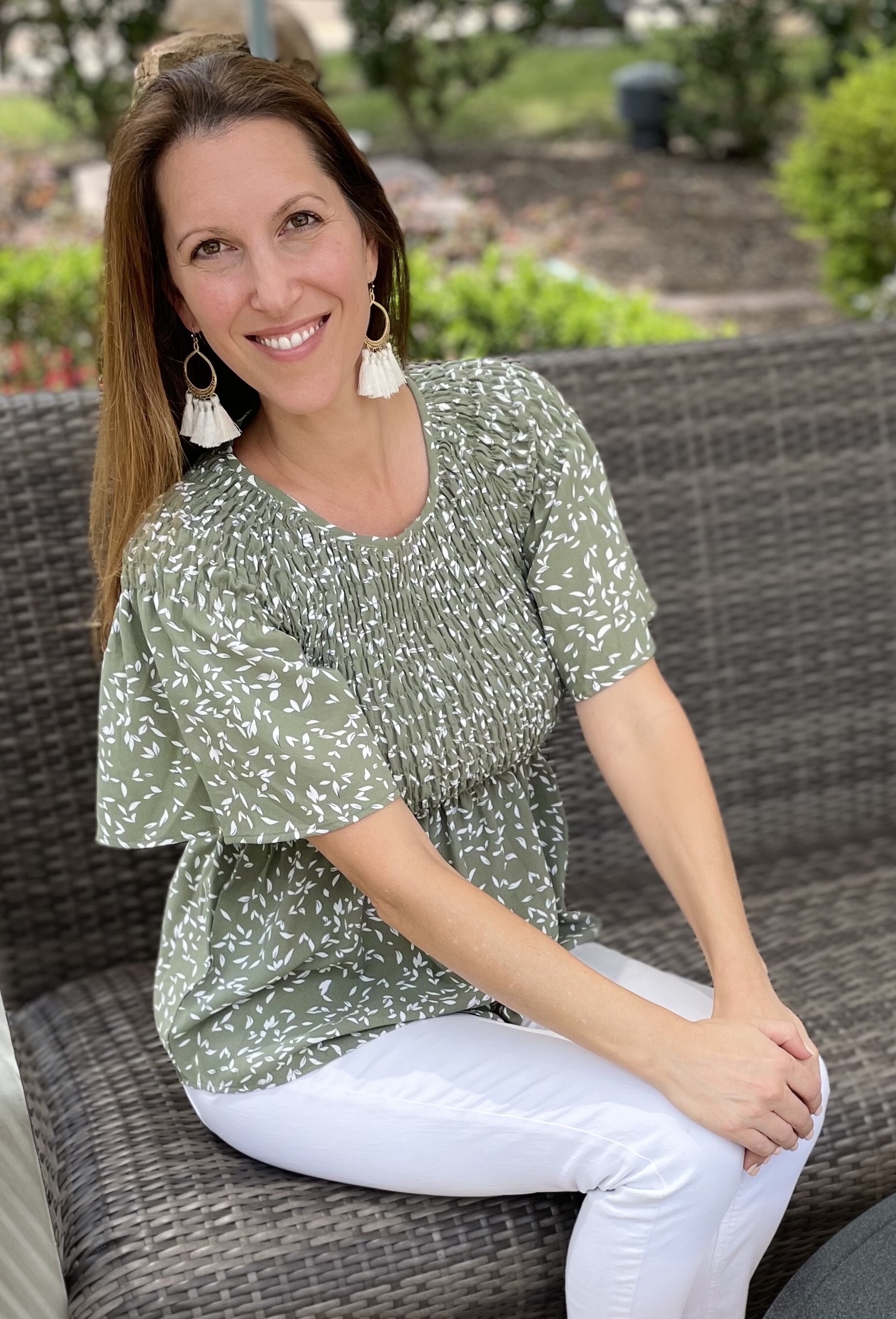 Alicia Searl is a devotional author, blogger, and speaker that is passionate about pouring out her heart and pointing ladies of all ages back to Jesus. She has an education background and master's in literacy. Her favorite people call her Mom, which is why much of her time is spent cheering them on at a softball game or dance class. She is married to her heartthrob (a tall, spiky-haired blond) who can whip up a mean latte. She sips that goodness while writing her heart on a page while her puppy licks her feet. Visit her website at aliciasearl.com and connect with her on Instagram and Facebook.
LISTEN: How to Calm the Chaos & Have Your Most Fulfilling Fall Ever
The views and opinions expressed in this podcast are those of the speakers and do not necessarily reflect the views or positions of Salem Web Network and Salem Media Group.
WATCH: 5 Things for Christians to Keep in Mind This Fall
Created by Skylar Cochran, Thumbnail courtesy of Canva.com, Stock footage & Music courtesy of soundstripe.com, Voiceover powered by Speechify
Related articles:
15 Beautiful Verses for the Fall Season
How to Savor the Fall Season
6 Cozy Reads for Fall
PLUS content:
5 Cost-Effect Fall Activities
Your Guide to Getting the Most Out of Fall
How to Deal with Grief This Autumn Season