Comforting Bible Verses for Those Feeling Alone This Christmas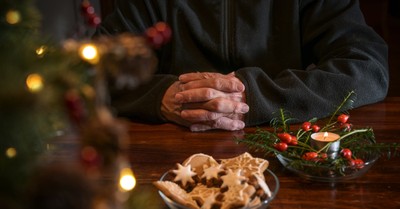 By April Motl, Crosswalk.com
Recently, despite my hurried schedule, I couldn't resist strolling down the aisle at the store to peruse the new Christmas items they'd just set out. My mind quickly lit on how much I missed sharing these moments with a loved one who had gone onto heaven. Without warning, the missing rushed in like a flood.
The holidays have a heavy way of stirring feelings of loneliness. Whether it's the loneliness of being single or not having children, maybe the grief of lost loved ones or broken relationships, the sense of emotional ache and longing often sweeps in on us during this time of year.
If (or perhaps when) loneliness finds you this holiday season, here are five verses to re-center your heart in Christ's love and remind yourself of His truth.
1. Turn your sufferings into an opportunity to understand Christ more.
Now I rejoice in my sufferings for your sake, and in my flesh I do my share on behalf of His body, which is the church, in filling up what is lacking in Christ's afflictions. Colossians 1:24 NASB
As a believer in a first-world western culture, I often tell myself I have no real suffering. "Suffering" is a word reserved for single moms with starving children in a third-world country or Christians facing deadly persecution. But if we look at Scripture, suffering is indeed a word we might carefully consider identifying with (carefully now, so we don't go overboard and think that waiting in an extra long line for a latte is suffering).
Christ suffered loneliness. His family and friends misunderstood him. Followers left Him. People wrongly accused Him. He understood loneliness intimately.
Therefore His brothers said to Him, "Leave here and go into Judea, so that Your disciples also may see Your works which You are doing. For no one does anything in secret when he himself seeks to be known publicly. If You do these things, show Yourself to the world." For not even His brothers were believing in Him. So Jesus *said to them, "My time is not yet here, but your time is always opportune. The world cannot hate you, but it hates Me because I testify of it, that its deeds are evil. Go up to the feast yourselves; I do not go up to this feast because My time has not yet fully come." Having said these things to them, He stayed in Galilee.
But when His brothers had gone up to the feast, then He Himself also went up, not publicly, but as if, in secret. John 7:3-10
At Passover, a very family and community-oriented holiday, Jesus went up to Jerusalem secretly. On the night of Passover, He was betrayed by one of His disciples. Jesus knew well the loneliness associated with holidays meant to bring joy and unity. He understands us. And (if our loneliness is due to something other than us being sinful in relationships), we can actually turn our loneliness into an opportunity to understand Christ and His sufferings. Our loneliness could propel us into deeper fellowship with Christ. And fellowship with my Lord has been the truest healing for my aching heart.
2. God is near to the brokenhearted.
The LORD is near to the brokenhearted
And saves those who are crushed in spirit.
Many are the afflictions of the righteous,
But the LORD delivers him out of them all. Psalm 34:18-19
The moments we feel brokenhearted over our loneliness are moments we can search for the Lord's presence. Sometimes our pain clouds our senses, but if we are faithful to ask the Lord to open the eyes of our hearts, He will be faithful to show us that He is especially near when we are hurting.
3. Jesus is a rock.
I waited patiently for the LORD;
And He inclined to me and heard my cry.
He brought me up out of the pit of destruction, out of the miry clay,
And He set my feet upon a rock making my footsteps firm.
He put a new song in my mouth, a song of praise to our God;
Many will see and fear
And will trust in the LORD. Psalm 40:1-3
Sometimes loneliness feels like emotional quicksand. One moment a twinge of loneliness finds us, and the next moment we've slid into a pit of remembering all the others who have left us or betrayed us or all the loved ones who have passed away. Loneliness can indeed overwhelm us if we let it take our hearts! But Scripture tells us Jesus is our Rock - just for moments like these.
When you feel your heart slipping into miry clay, set your soul on the steadying character of your Lord! Put your feet on the faithful character of our Lord, who wastes no pain. Anchor your emotions to the hope of God doing something good amid the momentary grief. If we let Him, He will be bottom to the clay pits we slip into and keep us from slipping farther. If we rest our hearts on Him and His promises and truth, we don't have to let our emotions take us down dark roads we can't find our way out of.
Sometimes it is as simple as a quick prayer, sometimes, we have to fight hard and long, but whatever it takes to get our hearts securely anchored to Jesus, He will keep us from getting washed away in a torrent of emotions that are too big for us. He will set a new song in our mouths and use our lives as a testimony of His goodness!
4. God promises to use your pain.
Blessed be the God and Father of our Lord Jesus Christ, the Father of mercies and God of all comfort, who comforts us in all our affliction so that we will be able to comfort those who are in any affliction with the comfort with which we ourselves are comforted by God. For just as the sufferings of Christ are ours in abundance, so also our comfort is abundant through Christ. But if we are afflicted, it is for your comfort and salvation; or if we are comforted, it is for your comfort, which is effective in the patient enduring of the same sufferings which we also suffer; and our hope for you is firmly grounded, knowing that as you are sharers of our sufferings, so also you are sharers of our comfort. 2 Corinthians 1:3-7
Whatever we suffer, God promises to meet us in our pain and teach us about Him and His comfort so that we can turn around and comfort others. God is indeed working purification and all manner of good fruit into our lives by leaving us here on earth, but a very central purpose to our lives is other people! If it wasn't, God would save us and then take us right to heaven! But there are other people who need us and our testimonies. They need the specific way God's light shines through us - our broken hearts and all.
5. Comfort will come!
When Zacharias prophesied about his baby son, John, he said that John would prepare the way for the long-awaited Savior. He said the Messiah would come.
"TO SHINE UPON THOSE WHO SIT IN DARKNESS AND THE SHADOW OF DEATH, to guide our feet into the way of peace." Luke 1:79
As the Christmas story unfolded in Scripture, the Angels continually brought a message saying "peace" to the people they spoke to. And when Baby Jesus was taken to the Temple for His circumcision, a devout man, Simeon, was there looking for "the consolation of Israel." The Christmas story is all about "comfort and joy!"
If your human relationships don't reflect the sweet comfort Jesus came to give His children, my heart sympathizes with you. But guard your precious heart with wisdom. Our human relationships are not designed to fill us the way our relationship with God is designed to. God has comfort for you. It is His nature. It is His purpose. He came to guide our feet to the way of peace.
Photo credit: ©Getty Images/Fermate
Video credit: ©iBelieve
---
April Motl is a pastor's wife, homeschool mom, and women's ministry director. When she's not waist-deep in the joys and jobs of motherhood, being a wife, and serving at church, she writes and teaches for women. You can find more encouraging resources from April here and here.