Beautiful Prayers for My Daughter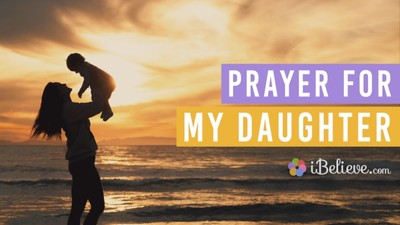 By Crosswalk.com Editorial Staff, Crosswalk.com
As parents, "As parents, we share a deep and unique bond with our daughters—a bond filled with love, hopes, and dreams. We understand the profound sense of responsibility and the overwhelming love that fills your heart when you think of your own daughter. In every smile, every milestone, and every shared moment, we see a future full of potential and promise.
Whether you're praying for her health, wisdom, protection, or simply her happiness, this video will help guide your prayers and encourage you as a parent! As you watch, may you find comfort and reassurance in your role as a parent. May you draw strength from your faith, knowing that God's caring and protective embrace extends to your daughter as well. Your prayers are a testament to your love and dedication, a profound act of parenting that transcends words.
Through your prayers, may you experience a profound sense of joy and hope, for the Lord is a constant presence in your daughter's life. He is the guiding light on her path, illuminating her way and filling her journey with grace and blessings.
Video adapted from content at Powerful Prayers for My Daughter
Image Credit: Photo by Jude Beck on Unsplash https://unsplash.com/photos/4bpCW2ETR-Q Photo by Priscilla Du Preez on Unsplash https://unsplash.com/photos/WWD93Icc30Y Photo by Josh Withers on Unsplash https://unsplash.com/photos/eVA6Q_Ma8us Photo by Henry Be on Unsplash https://unsplash.com/photos/IicyiaPYGGI Photo by Leon Biss on Unsplash https://unsplash.com/photos/FjAD28N8-IQ Photo by Priscilla Du Preez on Unsplash https://unsplash.com/photos/5z0MO06N3ho Audio Credit: https://app.soundstripe.com/songs/9948