Be Uplifted with this Powerful Version of Philippians 4:13 - "I Can Do All Things Through Christ"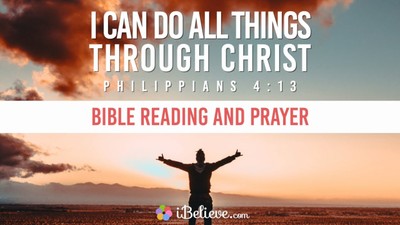 By Crosswalk.com Editorial Staff, Crosswalk.com
In times of challenge and adversity, finding strength and inspiration in the words of Scripture can be a source of great comfort and resilience. One such powerful and reassuring verse is found in the book of Philippians 4:13, which states, "I can do all things through Christ who strengthens me."
This verse, often quoted and cherished by Christians around the world, embodies the profound truth that our strength doesn't come from our own abilities or circumstances, but from our faith and reliance on Christ. It reminds us that when we face trials, difficulties, or moments of weakness, we are not alone. Christ, the source of all strength, walks alongside us, empowering us to overcome challenges and accomplish tasks that might otherwise seem insurmountable.
As we listen to the reading and engage in prayer, we find peace in the assurance that, through Christ, we can navigate life's challenges with resilience, perseverance, and unwavering faith. This verse becomes a beacon of hope, a reminder that no matter the circumstances, we are empowered by a strength that knows no bounds—a strength found in our relationship with Christ, our Savior and Redeemer.
Video Credits: Photo by Xan Griffin on Unsplash https://unsplash.com/photos/eA2t5EvcxU4 Photo by Pedro Lima on Unsplash https://unsplash.com/photos/HtwsbbClBOs Photo by Philippe Toupet on Unsplash https://unsplash.com/photos/R261qkc-nDE Photo by Joel Muniz on Unsplash https://unsplash.com/photos/XqXJJhK-c08 Photo by Aaron Burden on Unsplash https://unsplash.com/photos/ia0Zxx_sDr8 Audio Credit: https://app.soundstripe.com/songs/9657