Houses of Worship Security Training - Kittanning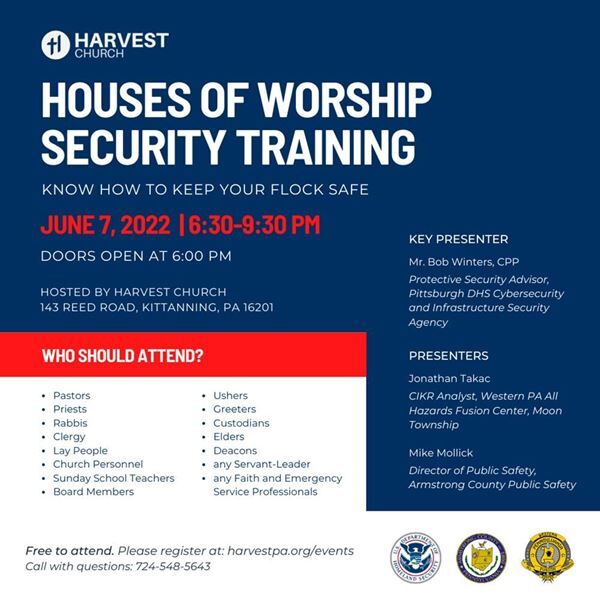 6:30 - 9:30 PM on Tuesday, June 7
Know How to Keep Your Flock Safe June 7, 2022 from 6:30-9:30pm at Harvest Church, 143 Reed Road, Kittanning
Who should attend? Pastors/Priests/Rabbis/Clergy/Lay People/Church Personnel/Sunday School Teachers/Board Members/Ushers/Greeters/Custodians/Elders/Deacons/any Servant-Leader/any Faith and Emergency Services Professionals.
Key Presenter: Mr. Bob Winters, CPP - Protective Security Advisor, Pittsburgh DHS Cybersecurity and Infrastructure Security Agency Presenters: Jonathan Takac, CIKR Analyst, Western PA All Hazards Fusion Center, Moon Twp. & Mike Mollick, Directory of Public Safety, Armstrong County Public Safety
Free to Attend! | Doors open at 6pm | Registration recommended. Register at harvestpa.org/events. Questions, call 724.548.5643 or visit harvestpa.org.
Location:
Harvest Church - Kittanning Campus
143 Reed Road
Kittanning, PA 16201
Google Map