Summer Saturdays Art Workshops - Green Tree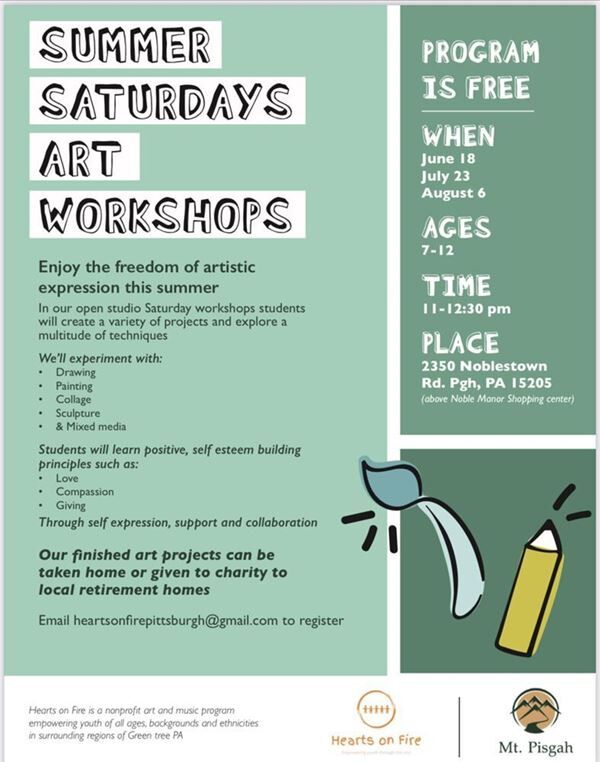 11:00 AM - 12:30 PM on Saturday, July 23
11:00 AM - 12:30 PM on Saturday, August 6
SUMMER SATURDAYS ART WORKSHOPS
June 18, July 23, August 6 11-12:30 pm
(Ages 7-12)
Enjoy the freedom of artistic expression this summer, in our open studio Saturday workshops where students will create a variety of projects and explore a multitude of techniques. We'll experiment with drawing, painting, collage, sculpture, and mixed media while we discover various art styles and create unique pieces of art.
Students, ages 7-12, will learn positive, self-esteem building principles such as love, compassion and giving through self-expression, support and collaboration. Our finished art projects can be taken home or given in charity to local retirement homes.
Email [email protected] to register. Program is free! Space is limited!
Hearts on Fire is a nonprofit art and music program empowering youth of all ages, backgrounds and ethnicities in the surrounding regions of Green Tree, PA. All Camps and Workshops held at: 2350 Noblestown Rd. Pittsburgh, PA 15205 (above Noble Manor Shopping Center)
Location:
Hearts on Fire at Mt. Pisgah Christian Community Center
2350 Noblestown Road
Pittsburgh, PA 15205
Google Map