Notes From The Road - Train Ideas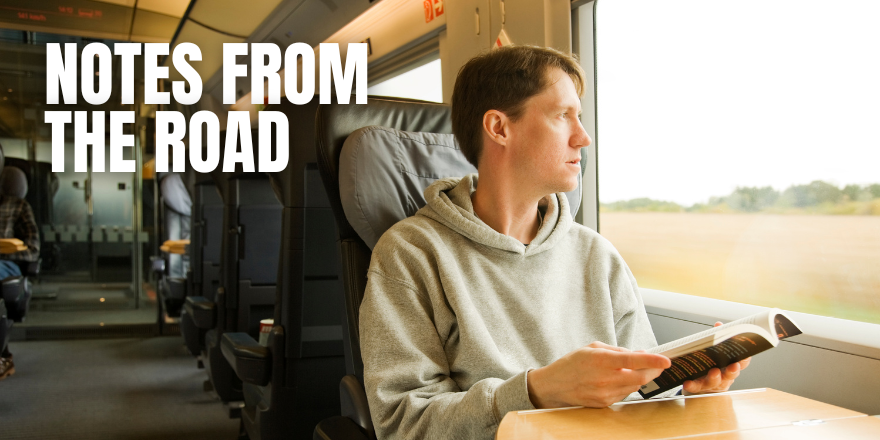 Greetings! As an expert in the field, I can attest to the myriad benefits of embarking on a romantic train journey through the enchanting landscapes of Europe, Canada, or America. These exquisite train rides not only offer couples a chance to escape the daily grind but also provide a host of health-enhancing experiences. Consider these three exceptional train journeys for your next romantic getaway:
The Venice Simplon-Orient-Express (Europe):
Step back in time and indulge in luxury aboard the Venice Simplon-Orient-Express. This iconic train takes you on a journey through the heart of Europe, passing picturesque villages, lush vineyards, and majestic mountains. As you savor gourmet cuisine and unwind in lavishly appointed cabins, stress simply vanishes. The timeless charm of this train ride not only lowers stress levels but also invigorates your soul.


The Rocky Mountaineer (Canada):
For couples seeking awe-inspiring natural beauty, the Rocky Mountaineer is a top choice. Meandering through the Canadian Rockies, this train ride offers panoramic views of snow-capped peaks, crystal-clear lakes, and dense forests. Fresh mountain air and the opportunity for outdoor exploration promote physical fitness and mental well-being. It's a journey that not only strengthens your bond but also your health.


The California Zephyr (America):
Experience the heartland of America on the California Zephyr. This transcontinental train journey takes you from Chicago to San Francisco, passing through diverse landscapes, including the Great Plains, the Colorado Rockies, and the Sierra Nevada Mountains. The ever-changing scenery encourages couples to connect with nature and each other, fostering relaxation and emotional rejuvenation.
In addition to the scenic splendor and romantic ambiance of these train rides, you'll find that they provide the perfect prescription for a healthier, more balanced life. So, why wait? Choose one of these remarkable journeys, and let the train whisk you away to a world of well-being and wonder. Enjoy the ride!