What Does Following Christ Cost? - Today's Insight - April 1, 2023
Crosswalk.com

Can you recall Jesus's radical philosophy of being a servant to others? The basis of that statement is tucked away in His words:
He was saying to them all, "If anyone wishes to come after Me, he must deny himself, and take up his cross daily and follow Me." (Luke 9:23)
Following Christ as His disciple is a costly, unselfish decision. It calls for a radical examination of our self-centered lifestyles. Whew! That's one of those easy things to say but tough to carry out.
Let's see if I can break this down into smaller bite-sized chunks so we don't gag on it. When you look closely at Jesus's statement, a couple of things seem important. First, those who desire to follow Him closely must come to terms with self-denial. And second, this decision to give ourselves to others (taking up our cross) has to be a daily matter.
That's costly stuff. Terribly expensive.
If we take His words seriously, then it isn't difficult to see some questions that we must ask and answer ourselves, like:
Am I serious about being a close follower of Jesus Christ?
Do I think of others to such an extent that self-denial is becoming the rule rather than the exception in my life?
Is my walk with Him a daily thing?
Taken from Improving Your Serve by Charles R. Swindoll. Copyright © 1981 by Charles R. Swindoll, Inc. Used by permission of Thomas Nelson. www.thomasnelson.com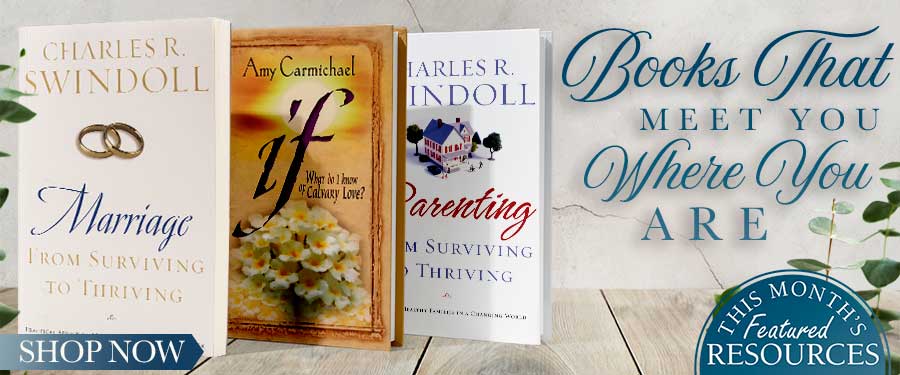 Used with permission. All rights reserved.
Listen to today's broadcast of Insight for Living with Chuck Swindoll at OnePlace.com.
Visit the Bible-teaching ministry of Chuck Swindoll at www.insight.org.