A Living Hope - Truth For Life - May 16
Crosswalk.com

Blessed be the God and Father of our Lord Jesus Christ! According to his great mercy, he has caused us to be born again to a living hope through the resurrection of Jesus Christ from the dead, to an inheritance that is imperishable, undefiled, and unfading, kept in heaven for you, who by God's power are being guarded through faith for a salvation ready to be revealed in the last time.
Without encountering God in the Lord Jesus Christ, life can be extraordinarily bleak—an empty, hopeless existence. There are not enough things to do that will fill the emptiness. There are not enough occasions to look forward to. It is impossible to amass enough material possessions or take enough vacations to be able to fill up the human soul.
But the child of God has been delivered from this realm of hopelessness. When we place our trust in Christ, we are removed from bondage to "the domain of darkness" (Colossians 1:13) and are "born again to a living hope." The believer's hope is alive and it is fulfilling because it is rooted firmly in our risen, ascended, and reigning Savior. Our hope no longer hinges on ourselves or our circumstances; rather, "the resurrection of Jesus Christ from the dead" is the guarantee that our hope is secure.
Our hope is also eternal. God promises believers a future inheritance that is absolutely certain. Peter describes for us the unique nature of this inheritance; it is untouched by death, unstained by evil, and unimpaired by time. There is no possibility of it diminishing or disappointing because it can't perish, it can't spoil, and it can't fade—and it's kept in heaven with our name on it.
Not only is our hope living and eternal, but it is also shielded by the power of God Himself. Indeed, Peter describes believers as those "who by God's power are being guarded." When we become aware of the rigors of sin or we are buffeted by the brokenness of this fallen world in our life and we're tempted to despair, here's the wonderful truth: God has garrisoned us and shielded us. We will not be lost. And in this promise the beleaguered believer finds strength and renewed hope.
What is it that puts a spring in our step, no matter how steep the path? What is it that lifts our chins off our chests and keeps us looking forward with joy? What can truly fill your soul and bring you through whatever hard situations you are facing as you read these words? It is this truth: that, because of God's great mercy, you have been born again to a living hope—a hope which nothing can ever spoil and that no one can ever take from you (John 10:28).
As a thank-you from us for your gift, we'll send along this month's resource: How Christianity Transformed the World by Sharon James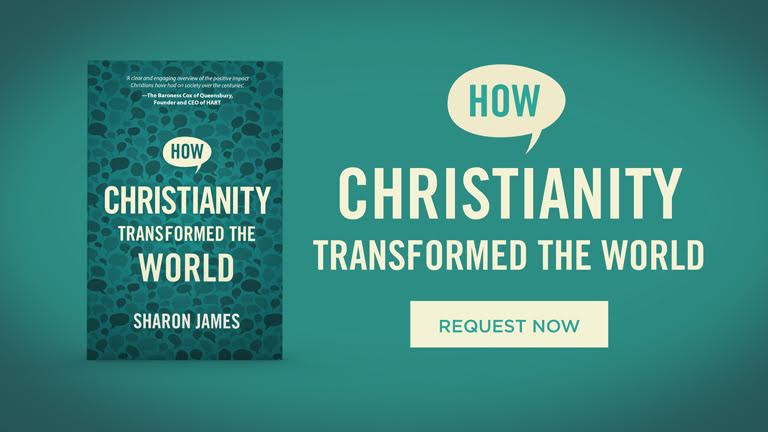 Click here to learn more about Truth For Life
Devotional material is taken from the Truth For Life daily devotional by Alistair Begg, published by The Good Book Company, thegoodbook.com. Used by Truth For Life with permission. Copyright © 2021, The Good Book Company.