What Does it Mean to Be Righteous? (2 Corinthians 5:21) - Your Daily Bible Verse - January 28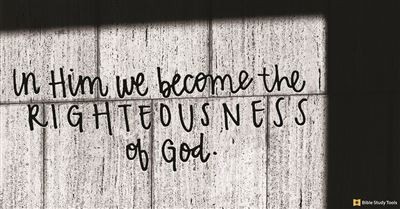 Crosswalk.com

What Does it Mean to be Righteous?
By: Topher Haddox
For our sake he made him to be sin who knew no sin, so that in him we might become the righteousness of God. (2 Corinthians 5:21)
Righteousness is the perfect holiness of Christ. It is an essential attribute to the character of God; quite literally meaning "One who is right". Think of it as the polar opposite of sin. To commit sin is to go against God's design for our lives, therefore righteousness is the only living standard that is acceptable for us to stand before the Father. The wages of sin is death, but in the path of righteousness is life, and in its pathway there is no death. (Proverbs 12:28)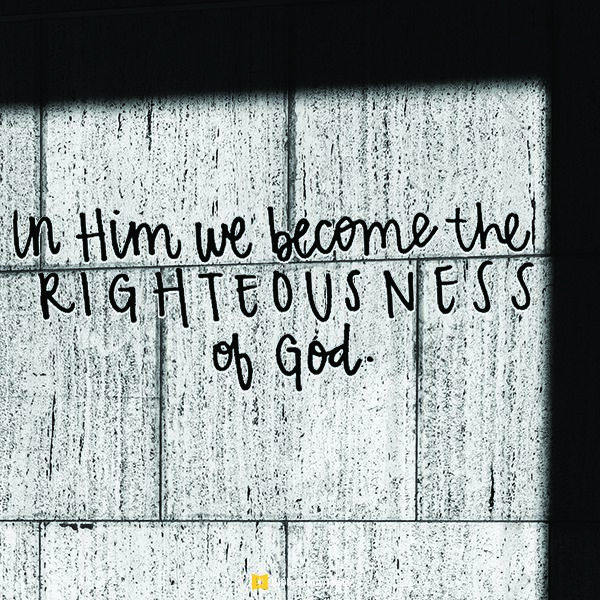 Can we produce righteousness?
All of us are born into complete bondage to sin, unable to produce any sort of righteousness on our own (Romans 3:9-12). As a matter of fact, Isaiah says that our attempts to produce righteousness on our own are disgusting in the eyes of God. We have all become like one who is unclean, and all our righteous deeds are like a polluted garment. We all fade like a leaf, and our iniquities, like the wind, take us away. (Isaiah 64:6)
Where does my righteousness come from?
The Bible clearly defines righteousness as something His people should pursue (2 Tim 2:22), yet we are unable to produce it. So where do we get it? Our righteousness is imputed from Jesus through the atoning work that He accomplished on the cross (Philippians 1:11) We couldn't produce it, Christ produced it for us.
Only the perfection of Christ could have accomplished this work. Only Jesus could have lived a perfect, obedient, and sinless life. Only Jesus could have atoned for the sins of His people. Only the righteousness of Christ will enter His Kingdom (Matthew 5:20)
The purpose of the Cross
When God sees His people, He doesn't see our sin. Instead, He sees us clothed in the righteousness of Christ. He sees us instantly and completely justified through that righteousness.
This was the purpose of the cross. We were unable to obey the law and live in righteousness, so Christ came and lived in perfection in our place. He took our disobedience, nailed it to the cross, and gave us His righteousness.
He himself bore our sins in his body on the tree, that we might die to sin and live to righteousness. By his wounds you have been healed. (1 Peter 2:24)
This is the good news of the Gospel of Jesus. We don't have to work and try and produce our own righteousness, Christ has robed us in His. His entire Earthly mission was to reconcile the church, making her in righteous standing with God.
How do I pursue righteousness?
To pursue righteousness means to turn away from your natural, sinful desires, and turn to Christ and His perfect and righteous ways. Through obedience to this command, God is preparing us for eternal life with Him—aligning us with our righteousness through Christ.
He restores my soul. He leads me in paths of righteousness for his name's sake. (Psalm 23:3)
---
Editor's Note: Part of this devotional was taken from What Does it Mean to be Righteous? in by Topher Haddox. You can read the full blog post here.
Read through the Bible in Community This Year!
We're Tricia and Michelle, two friends inviting you to join us in reading through the Bible chronologically this year. Reading the Bible every day can be a challenge. We're here to sum up each day's passage and provide action steps ... in under 15 minutes. Grab a buddy and join us on The Daily Bible Podcast. Take the plunge, and let's read through the Bible together. We'll be cheering you on all the way!