Godly Ways to Handle Correction (Proverbs 19:20) - Your Daily Bible Verse - February 6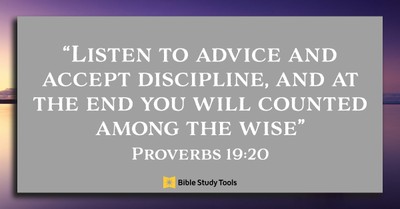 Crosswalk.com

Godly Ways to Handle Correction
By Lynette Kittle
"Listen to advice and accept discipline, and at the end you will counted among the wise"—Proverbs 19:20
For most of us, it isn't easy to be corrected. And whether we receive it or not in the end it's really up to us.
In every situation it's important to weigh what is spoken to us, to see if it aligns with Scripture, and to thoroughly examine our hearts and motives in receiving it.
Like Proverbs 15:32 encourages, "Those who disregard discipline despise themselves, but the one who heeds correction gains understanding."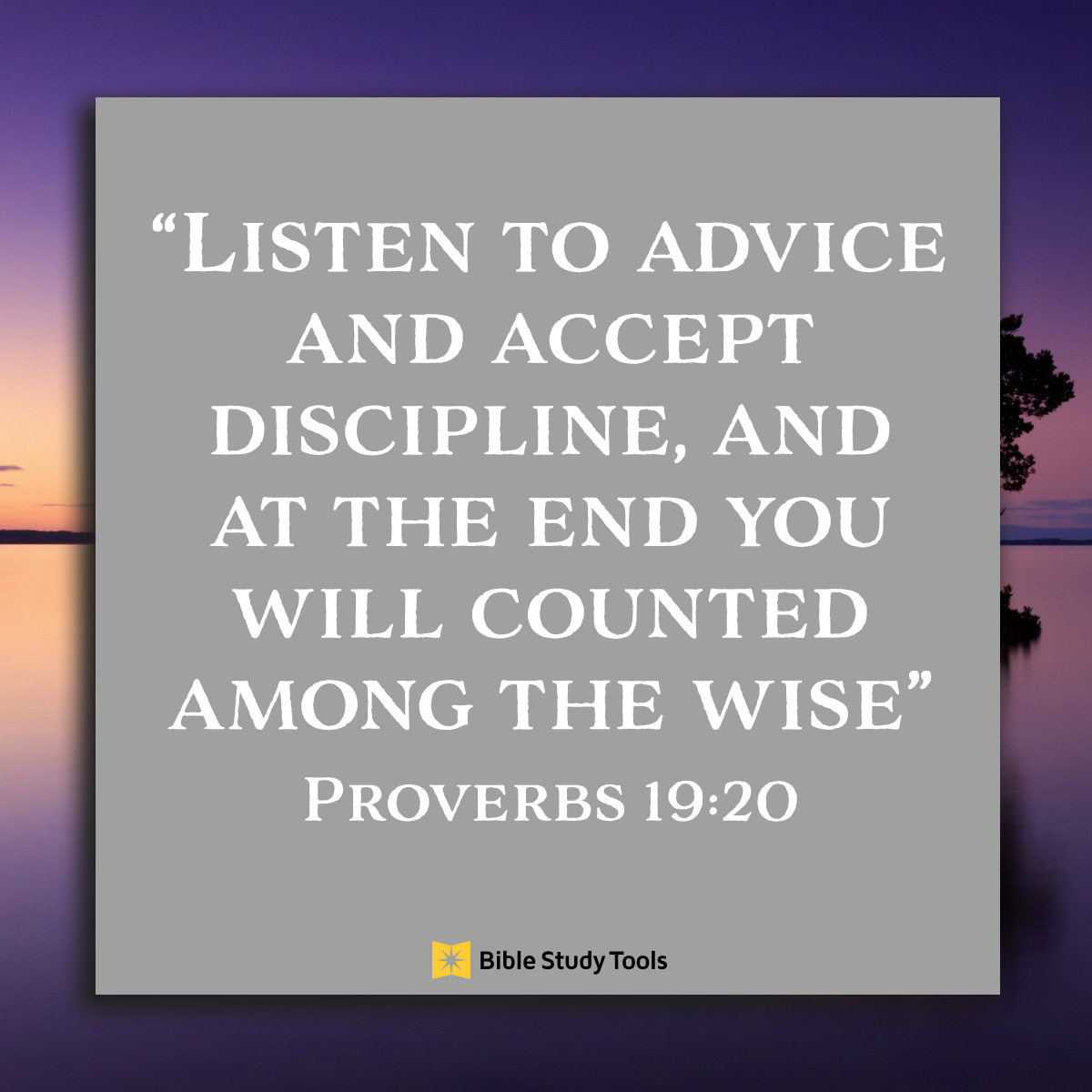 Look at the Source
Although receiving correction from godly counsel or someone who truly loves us may be easier to accept, often advice isn't coming from a person or organization that has our best interest at heart or from someone who even knows God.
At work, home, and out in the marketplace, it can come from people who are angry, and maybe not even angry with us but are taking out their frustration on us. Sometimes it comes from those who are acting out of their own hurts in life, lashing out and hurting others along their way.
It can also come from those who are jealous and envious of what we have, do, or are in life, from those who believe we've received unfair advantages.
Likewise, it can come from those who are in power but don't know how to handle it.
So as correction comes, a lot of it is up to us to figure out how to handle it. It comes down to our call on whether to take it to heart or discard it by the wayside.
Trust God To Work It Together for Our Good
Amazingly, sometimes even bad correction can bring good results in us because it causes us to examine what we're doing and helps us to fine tune what God is working out in our lives.
Because God explains He will work all things together for our good (Romans 8:28), it includes even the things the enemy lines up to discourage us. God is so amazing that He can take those unpleasant things and work them into the mix of our lives collectively in ways that will benefit us.
Like Joseph explains in Genesis 50:20, what men may have intended for evil in our lives, God intends to use it in ways that will help accomplish His will in us.
When we're tempted to dismiss unsolicited advice, it's wise to consider what Proverbs 12:15 explains, "The way of fools seems right to them, but the wise listen to advice."
As we work through correction given to us, it's vital for us to look to Scripture to lead us in discerning it. "All Scripture is God-breathed and is useful for teaching, rebuking, correcting and training in righteousness" (2 Timothy 3:16).
Helpful Questions to Ask Ourselves When Correction Is Offered
1. Where is the correction coming from? What is the source?
2. Is there pride within us, causing us to resist examining ourselves or accepting correction?
3. How does Scripture line up with the advice given? Does it agree or disagree?
As you go about your day today, consider these questions and be open to the beauty that can come from correction.
---
Lynette Kittle is married with four daughters. She enjoys writing about faith, marriage, parenting, relationships, and life. Her writing has been published by Focus on the Family, Decision, Today's Christian Woman, iBelieve.com, kirkcameron.com, Ungrind.org, Startmarriageright.com, growthtrac.com, and more. She has an M.A. in Communication from Regent University and serves as an associate producer for Soul Check TV.
Read through the Bible in Community This Year!
We're Tricia and Michelle, two friends inviting you to join us in reading through the Bible chronologically this year. Reading the Bible every day can be a challenge. We're here to sum up each day's passage and provide action steps ... in under 15 minutes. Grab a buddy and join us on The Daily Bible Podcast. Take the plunge, and let's read through the Bible together. We'll be cheering you on all the way!